Het AD, NRC, De Volkskrant, De Vooravond, Op1, Jinek… allemaal sprongen ze op het nieuws van de BN'ers die social media bestookten met getuigenissen en de hashtag #ikdoenietmeermee. Starring Famke Louise en nog een zootje 'influenzaaa's'. ?
Als je dit 'nieuws' gemist hebt, omdat je het nieuws niet meer volgt, of om omdat je de tv jaren geleden al uit je woonkamer gegooid hebt, begrijp ik dat.
Ophef = nieuws.
Ofwel: heb je een rare uitspraak of zeg je iets wat tegen de stroom ingaat, staat er een camera voor je neus met een hijgende reporter, en schieten ze beeld van jou de ether in. Powww.
Dit hele ding, weet je wel, irriteerde mij. Want:
BN'ers hebben zich door een dansleraar laten influisteren wat ze moeten vertellen voor camera. (Dit was het publiciteitsplan van Mr. Engel).
Journalisten laten zich voor het karretje spannen van een geregisseerde actie met BN'ers, die bij navraag (en doorvragen) niet weten waar ze eigenlijk aan meedoen.
De media papegaaien elkaar na; uitspraken van influencers zwermen als een kettingbrief viraal via allerlei socials.
Ik weet niet wie hersenlozer is, de papegaaien in de media of die in BN'ers-land.
De enige die er adequaat op reageerde was weliswaar ook een BN'er: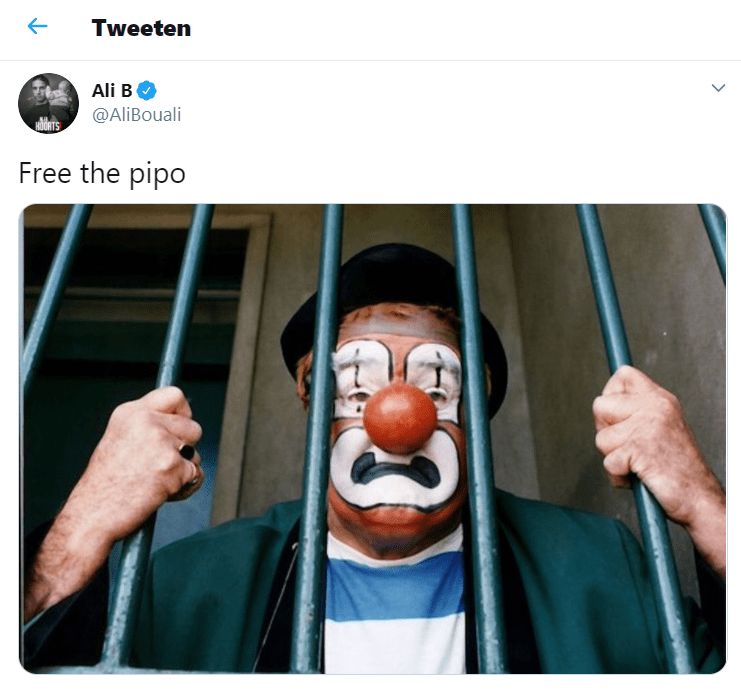 Spot on!
En dat is de meest briljante opmerking die iedereen erover had kunnen maken, om weer door te gaan naar het echte werk.
En doorrrrrr…
Linda 'free the pipo' Graanoogst, publiciteitsexpert en oprichter van MGIHN